Tombo Supplies

"TOMBO", or in English the "DRAGONFLY" is a symbol of good fortune and success, this is the reason we chose it as our company logo.
The TOMBO brand represents the very best in quality for safe and reliable training equipment.
Tim & Kirsty Bathurst produce a range of quality training equipment that is the result of 20 years experience in the Bujinkan Dojo, 8 of these training directly under Grandmaster Masaaki Hatsumi and his most senior instructors in Japan.
Tim is also an experienced carpenter, this coupled with Kirsty's creative expertise and eye for detail has created a range of training equipment that is beautiful as well as functional.
TOMBO SUPPLIES has a well established reputation and proven track record which has made it the choice of Bujinkan students the world over, from beginners enjoying their first lesson to the Grandmaster and all of his senior instructors in Japan.
Swords – Fukuro Shinai
Constructed from bamboo Shinai (Kendo swords), these Dai-Sho (Long & Short) sword sets have the blade section covered in leather and sponge tips, making them safe for striking during training. The handles are crafted to have the same shape as a real sword. They are hand-bound so they have the same feel as a real sword to add to your training experience.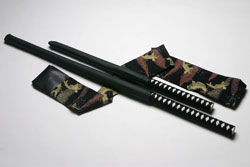 Hanbo – 3-foot stick
The new, improved version is now available! The new Hanbo has a core that is firm but flexible, covered in sponge and then wrapped in leather. It is designed to give you all the best features of a Hanbo-without the bruises.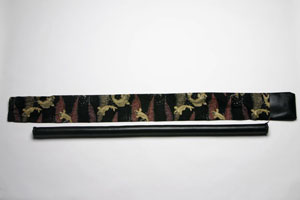 For any enquiries, please contact us via the "Contact Us" page.
Comments Off

on Tombo Supplies